St. Patrick's Day is upon us, and everyone is scrambling to figure out where they are going to celebrate the life of Ireland's patron Saint.  One thing is for sure, and there will be no shortage of bars that serve Guinness or Jack Daniels whiskey on the 17th of March.  Matter of fact, no matter what bar you attend on St. Patrick's Day you are likely to have one of these drinks in your hand while attempting to breathe among a sea of green t-shirts, sweatshirts, pants and hats!  On one of the biggest drinking days of the year, every bar will be packed with people chest to chest, but wouldn't you rather be chest to chest inside the best of the best?  Here is a rundown of the most popular St. Patrick Day establishments in New York, Chicago, Boston, and Los Angeles. 
Check out Dead Rabbit on 30 Water Street in New York City.  Even though Dead Rabbit is known for their magnificent bar program, they are home to some of the best Irish cuisine that the city has to offer.  Enjoy classic Irish dishes such as bangers and mash, lamb shepherd's pie, fish and chips, and a full savory Irish breakfast.  Feeling thirsty?  Wash that delicious meal down with one of the Dead Rabbits thirty different selections of whiskey.
Next up, we take a trip to the windy city where Chief O'Neill's Pub, located in Chicago at 3471 North Elston Avenue, will have you on your feet and dancing from morning to night! When two Irish-born musicians open a pub, you'd better believe they'll pay attention to the tunes.  For the best live entertainment, costume contests, corned beef dinner, with cabbage, carrots and boiled potatoes, and more, Chief O'Neill's Pub is the place to be.
Boston is said to be where the American St. Patrick's Day began.  With that being said, McGreevey's sports bar, located at 911 Bolyston Street, offers a more rowdy atmosphere.  Besides the great food and drinks, on St. Patrick's Day McGreevey's is giving away a trip for 2 to Dublin.  If you are in the New England area, I highly recommend checking McGreevey's out.  A free trip to the motherland does not come around very often.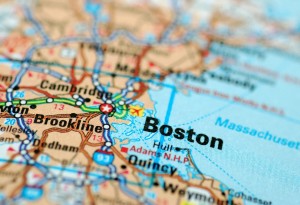 3,000 miles away never felt so close before.  Enjoy all things Boston at this authentic west coast Irish gastropub.  Play darts, pool, or sing karaoke at Sonny McLean's on 2615 Wilshire Blvd in Los Angeles.  Known for their Banger Sandwich, a hearty sausage served with sautéed onions on a baguette, Sonny McLean's is the perfect place to enjoy the day as you choose from a list of highly curated ciders, stouts, and IPAs.
I guarantee you, your friends, family, and loved ones will have a blast at any of these bars/pubs on St. Patrick's Day.  If you think a different establishment in one of these cities should have made the cut, please feel free to share your thoughts with us. 
Share and Enjoy