In life, there will be people who don't like you or your business. It is the cold hard truth of the world, but how do you handle the haters sippin' on the haterade?
Don't panic like my girl Snow White! You should see negative online reviews and criticisms as an opportunity to address issues and to gain consumer respect. Some people might write off your business after seeing one or two negative reviews, but by responding to the review or comment with a genuine and pleasant tone, you can gain their respect back. Yes, it can be extremely difficult to hold your fire against someone who has bashed a business you've poured your heart into. Do not respond with an angry and aggressive tone or accuse them of any wrong doing. The goal here is to frame your side of the story while acknowledging their frustrations.
The phrase "the customer is always right" has reached a new level of truth online. The internet is the first and last place consumers check before making a purchasing decision from dining at a restaurant to buying a new bed. You'll want to maintain a positive online presence at all times. Is the review bogus? Apologize anyway. Whether or not the review or complaint is real makes little difference to the masses. A quick "we're sorry" will have a much better response than a fire storm of accusations.
For more tips on how to respond to negative reviews, check out our shiny cool infographic as well as our other blog post here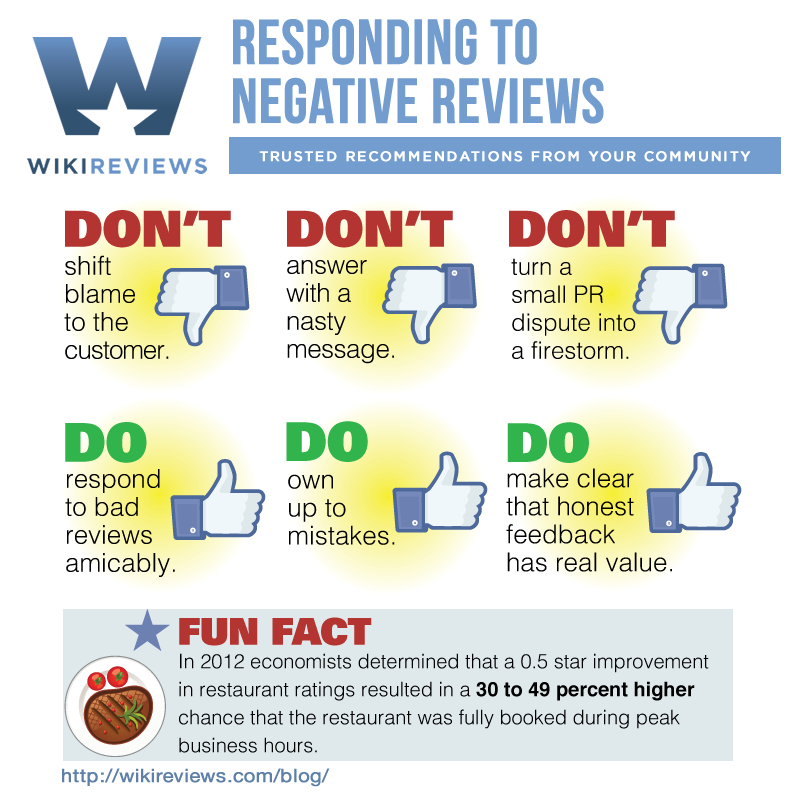 Share and Enjoy