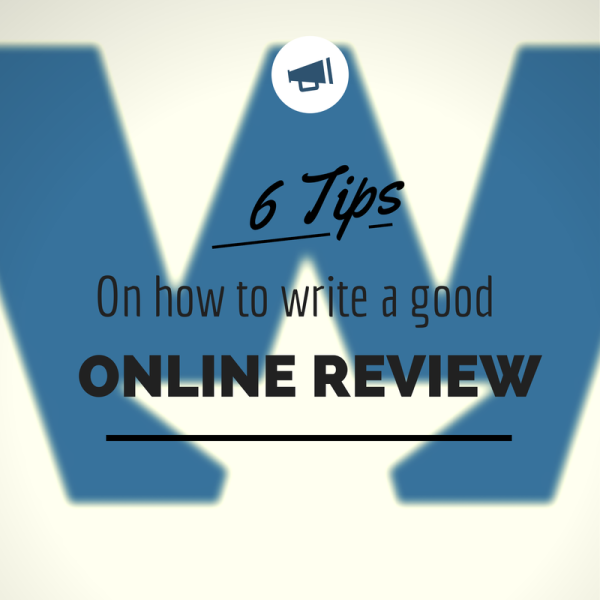 Wondering how to write a good online review? Of course you are!
But what exactly goes into a good review? For starters, it's got to be helpful, honest, and easy to read. There's a lot more that goes into an effective online review, and we're going to tell you all about it.
If you want to write reviews the world respects and remembers, make sure you stick to these 6 tips.
1. Be helpful
You're writing an online review so you're being helpful, right? Not so fast, Jack! Simply writing a review doesn't make what you're doing helpful to other users.
As you write your online review, be helpful by providing details about the product, person, or place you're reviewing rather than simply stating things like "it was good" or "I like it."
Rather than sharing vague 3 word reviews like those, try expanding on details like these:
Specific things you liked or disliked about the product or service

Why you used the product or service

How you found out about the product or service

Whether you plan to continue using a product or service again
2. Don't lie
You know lying is bad, so don't even think about it. It's especially bad when it comes to online reviews.
Opinions are almost always protected as free speech except in the case of defamation (a false accusation of an offense or a malicious misrepresentation of someone's words or actions), true threats, solicitations to commit crimes, incitement to imminent lawless action, blackmail, fighting words and obscenity).
Lying about your experience won't help anyone, and it's a complete waste of your time and those who read your review. If you misrepresent an experience with a product or service by exaggeration you could keep people from giving it a try, which is totally unfair!
Also, please be accurate, avoid embellishment and broad generalizations, and relate only to your first hand experiences. Deliberately sabotaging the viability of a business is strongly discouraged.
Do us all a favor and be honest when you write your reviews.
*We'd like to mention we have a guaranteed way to get rid of dishonest reviews. Our community-based review platform will allow users to speak up when they see something's wrong and vote to fix the situation.
3. Don't steal
When it comes to online reviews, be sure you only use content you have permission to use. This means no photos or videos of copyrighted material unless you're the rightful owner. Also, don't post photos of people without their permission. If they are children, ask the parents before you post.
4. Be clear
We can't all be Stephen King or Edgar Allen Poe, but we can slow down and make sure our writing is informative and clear (and hopefully even entertaining).
As you're writing (or shooting a video for) an online review, you may find it helpful to map it out first with an outline to make sure you hit all the points you want to cover.
After you've finished up the writing, give it a once over to check for word usage and grammatical errors. After your brief editing process, that sucker is ready to get published!
5. Give context
You could just say, "I visited the restaurant and the food was good." You could, but it wouldn't be very helpful or informative.
Instead, try adding some context and make your review more of a narrative. People like knowing how you happened upon a business and how you found out about a new product, so give the people what they want.
6. Provide Feedback
When you write an online review about a business, it's essential to provide detailed feedback about your experience. If you simply say, "the food was gross," the restaurant owner or chef doesn't have much to work with.
Instead of being vague, try adding details like "the soup was too salty" or "my roll was still frozen in the middle." This type of feedback will give the business owner specific action items to look into.
When you sign up for WikiReviews.com and get ready to write your first review, you may need to reference these tips to make sure you write the perfect online review. Lucky for you, we'll make sure these tips (and more) are easily accessible on the website so you'll never have to struggle to find them. Happy reviewing!
Calling all savvy online review writers! What's your best tip for writing the perfect online review?

nike air max barkley
Share and Enjoy