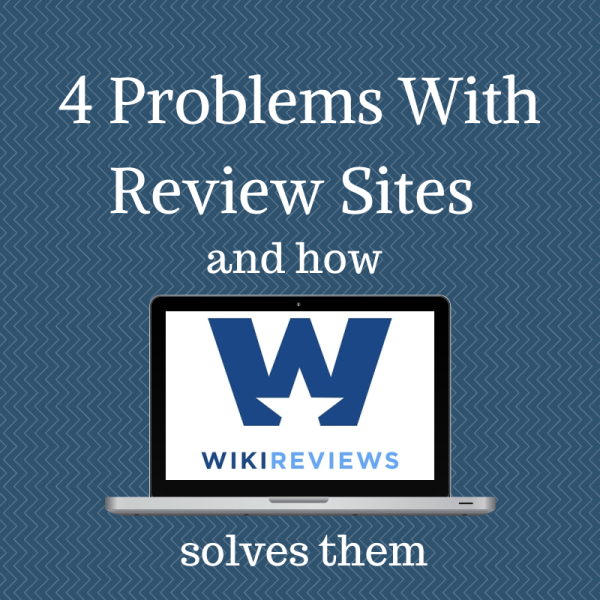 We know nothing in this world is perfect. Except maybe pizza, that's pretty much perfect. Other than that, though, most things could be improved.
When it comes to review sites, we think there are 4 major problems. In this post, we'll talk about the 4 major problems and how WikiReviews will solve them.
Problem #1: No go-to place for online reviews
If you want to write a review about a restaurant, you probably go to Yelp or Urbanspoon. If you want to write a review about a product, you may visit the manufacturer's website or Amazon to leave a review. What if you wanted to get feedback about a project you're working on? This one's a bit tougher. Having to be active on several different websites is a lot of work.
Solution #1: Create a site that hosts reviews for everything
We think it makes sense to have a go-to website, much like Wikipedia, where you can write reviews about nearly anything you want. You can write a review about a restaurant, product, or project all on the same site. Doesn't that sound lovely?
Problem #2: High level of distrust
Many users on existing review sites don't trust the information provided. Some people may think reviews are fake or that the feedback isn't accurate. Either way, trust issues are a major problem.
Solution #2: Allow users to vote on information
We'll solve this problem by allowing the community to take total control. If a review seems fake, we'll put it to a vote and solve the problem accordingly. Distrust won't be an issue anymore because you can rely on the community to speak its mind and rectify any issues.nike free 4.0 orange
Problem #3: Sharing and connecting with friends is difficult
Connecting with your social circles should be a big part of your online review experience. Existing review sites usually allow you to connect with your friends via Facebook or Twitter, and that's about the extent of it. This is nice, but we think we can do better.nike free 5.0 running
Solution #3: Create a community built on social interaction
The entire WikiReviews site will be built with social interaction in mind. You'll be able to connect with friends and family from nearly all the major social networks (Facebook, Twitter, Google+, LinkedIn, etc.), but we'll take it one step further. Once you've connected with all your friends and family, you'll be able to stay informed about what they've been up to on WikiReviews too. You'll even be able to create watchlists to monitor products or businesses you're interested in and see what your connections are saying about them. When it comes to the problem of poor social interaction, consider it solved!oakley gascan sunglasses
Problem #4: Listing data is often inaccurate and hard to manage
Ever relied on a Yelp listing to find important information about a business like their hours or location? Of course you have. Ever had your heart broken because that information was incorrect? Of course you have. That's a major problem!
Here's the problem. Yelp and other review sites don't do much in the way of vetting information to make sure it's accurate. Business owners also don't have a clear course of action for fixing fake reviews or inaccurate information, especially if they have not gone through the process of claiming their listing.
Solution #4: Make it easy for businesses to manage listing data
We think it should be easy to manage listing data and we think we should rely on the community to help do so. Our listings will be available to claim for business owners, but we'll also rely on users to update information. Our community will be allowed to vote to decide whether information is accurate and if a phony review needs to be removed or filtered.nike free reviews
It feels good to solve problems, especially major ones like these. WikiReviews will alleviate many of the pains people are feeling from existing review sites and make the process easier overall. Soon you'll have a go-to place to write reviews and gather trustworthy feedback about projects and products.
If you'd like to be one of the first to sign up, head over to our website and sign up using your email address. We'll contact you with news and updates, as well as add you to our list of eager early adopters.nike free 7.0 trainer
Share and Enjoy