In 2011, Netflix CEO Reed Hastings received severe backlash when he separated DVD and streaming plans. When he made that decision, Hastings saw what consumers didn't; streaming online content was the future. Now, with rising cable prices and required channel bundling, some consider cable something of the past. Downloading, streaming, and ripping media content is quickly becoming the way to watch media at home. To avoid complicated home media centers, many choose to purchase streaming media players.
Streaming media players are devices that allow people to watch internet TV (or streamed content) on TVs. The majority of streaming players are easy to set up out of the box and hook up to TV's with just one HDMI cord and come with preloaded applications to use such as Netflix, Hulu Plus, Amazon Prime Instant Video, Pandora, YouTube, Vudu, HBO Go, and many more. Although streaming media players don't offer live sports and same-day TV show access, they are affordable products with endless online content with a number of downloadable applications to stream media content. With the growing number of video applications and media players on the market, it can be difficult to decide which media player is right for you. Are you the type to steal your roommates password to only watch Netflix and Hulu plus? Or would you prefer to create your own medley of applications on an XBMC player? Are you an Apple fan that refuses to use anything with an Android system? The following is a breakdown of the top streaming media players to help find the perfect fit for you and your device.
Apple TV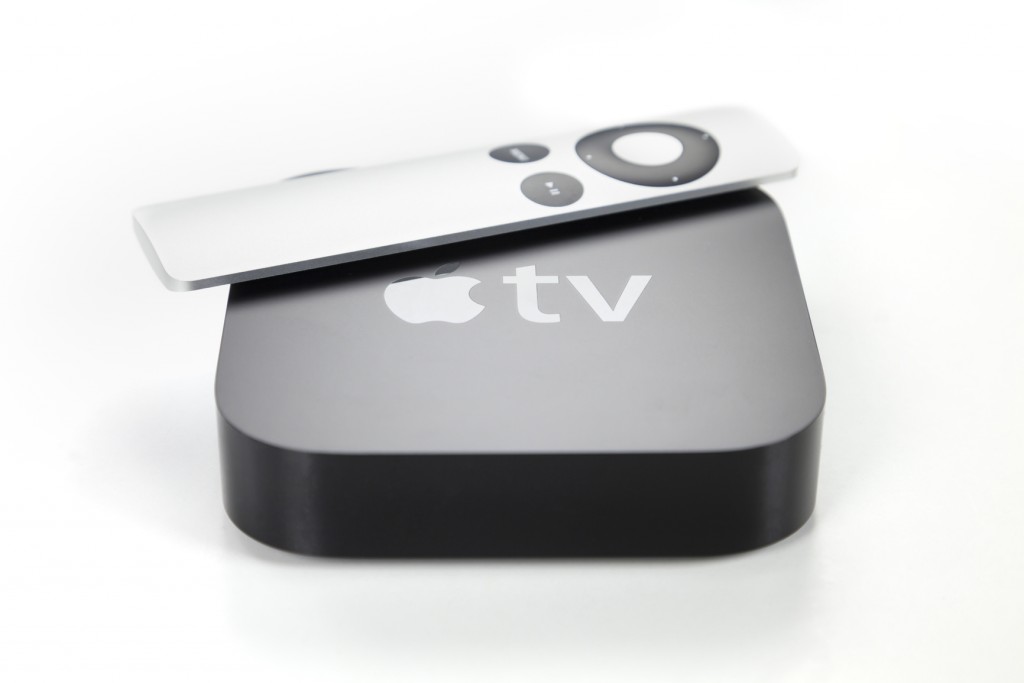 For the Apple fans out there, the $99 Apple TV comes preloaded with a handful of apps to stream content to your TV and it even allows you to stream content through Airplay from your iOS device, such as your iMac, MacBook, and iPhone. Out of the box, Apple TV is simple to setup and use. All you need is a single HDMI cord to plug Apple TV into your home TV. You have access to all the movies, TV shows, and music files that you've downloaded from the iTunes Store to stream to your TV, as well as access to Netflix, Hulu plus, HBO Go, Showtime, and sports sites such as MLB.com and NHL.com. Subscriptions are required for Netflix, Hulu plus, HBO Go, and Showtime and currently Apple TV does not support Amazon Instant Video. Apple TV's streaming, although extremely easy to use, is limited. It was built around the iTunes store and the watchable content is restricted to the apps it can stream and the content available in the iTunes store. The hidden bonus for Apple TV is the capability to use your iPhone as a remote. So if you've lost the Apple TV remote that came with your player, or you're too lazy to find it (which is probably more accurate), you're in luck!
Google Chromecast
Are you a Google enthusiast? Google's Chromecast might be for you. At $35, Chromecast is one of the most affordable streaming media players on the market. Just as simple as Apple TV, Chromecast plugs into the HDMI port on your TV, however, you do have to use an Android phone, tablet, iPhone, iPad, Mac or Windows laptop, or Chromebook to stream your content to your TV. Chromecast syncs with the big hitters including Netflix, HBO Go, Hulu plus, Google Play, STARZ Play, and Showtime. Subscriptions are required for Netflix, Hulu plus, HBO Go, STARZ play, and Showtime and currently Chromecast does not support Amazon Instant Video. The screen-mirroring feature that Chromecast is built upon won't work as well as you want it to on non-supported apps, so you're largely limited to the advertised supported applications. Chromecast also does not come with a remote, so you are forced to use your smartphone, tablet, or computer as a mirror remote control. The hidden bonus for Google Chromecast is that you can use Chromecast to display photos or video loops. So if you don't want to go outside, but pretend like you've been outside, just throw up a visual of your choice and watch your guilt melt away.
Amazon Fire TV
Are you an Amazon addict? If so, then you probably already know Amazon has their own streaming media player called Amazon Fire TV. Amazon Fire TV usually retails at $99, but is currently on sale for $84. Amazon Fire TV connects to your TV through an HDMI cord and gives you access to your Amazon Instant Video and Prime Video, if you're a member. Amazon Fire also gives you access to Netflix, HBO GO, Hulu Plus, Vimeo, low-cost movie rentals, on-demand sports, and music. Subscriptions are required for Netflix, Hulu plus, HBO Go, and Amazon Prime Instant Video. Although Amazon Fire provides access to other applications, the interface is obviously built upon the Amazon Instant Video store and pushes the access to the front lines. You aren't able to pin other applications, such as Netflix and Hulu plus, to the main menu and it can make navigation a little tricky for some. The hidden bonus for Amazon Fire TV is that it works very similarly to the Amazon Kindle. So if you're ashamed of your recent viewing of Sabrina, the Teenage Witch then have no fear. Amazon Fire lets you remove items from your home screen just like the Kindle.
Roku 3
If you would prefer a more impartial streaming media player, Roku 3 might be for you. Not unlike many of these devices, the Roku 3 plugs right into the TV with an HDMI cable. Roku has been considered the undisputed winner in terms of application content. For the price of $99.99, you get a streaming media player that currently holds 1,700 apps, which includes Netflix, Amazon Instant Video, HBO Go, Hulu Plus, Pandora, Spotify, MLB.TV, NFL Now, Amazon Cloud Player, Vudu, PBS, TWC TV and, YouTube. Subscriptions are required for Netflix, Hulu plus, HBO Go, and Amazon Prime Instant Video. Both Apple TV and Chromecast let you use apps on your smartphone, tablet, or computer to push content to your streaming player. Roku is starting to offer some of this functionality and you can push photos, music and videos stored on your device, but it's not nearly as adopted as on the other streaming players.
The hidden bonus for Roku 3 is their remote control that is provided in the box. The Roku 3 remote control has a headphone jack that allows you to listen to whatever is streaming and automatically mutes the TV. It is a great feature for that 6 hour night binge of Gilmore Girls you're too embarrassed to admit happened.
G-Box Midnight XBMC
Finally, if you're more into customized solutions and know your way around a computer, the G-Box Midnight XBMC player could be your winner winner chicken dinner. The G-Box retails between $60 and $120 from Amazon.com, depending on the model you choose. XBMC Streaming Players (short for X-Box Media Center) is a bit more complicated than your average streaming media player. The XBMC player is an open-source media player that allows users to view most videos from the Internet. The setup is fairly simple, not unlike other streaming players. You use an HDMI cable to connect the G-Box to the TV. The G-Box Midnight doesn't come preloaded with a single selection of channels like Apple TV or Roku. Instead, if you would want to download applications such as Netflix and Hulu plus, you would have to direct yourself to the Google play store to download the applications there. The best, but most complicated method for watching video content is by using XBMC. XBMC is an open-source media player that functions on a wide variety of operating systems, including Windows and iOS. The player allows users to download and install a number of video, audio and even picture add-ons, which then allows you to search for the content you wish to view. If the content is available, you will be presented with a list of website hosts. Simply choose a host, wait for the stream to load and you're ready to go. The hidden bonus for the G-box is that the box has 4 USB ports, which allows you to wirelessly use a keyboard to make searching easier. It can also read files from an external drive. If you want to make your friends jealous about that trip you took to Cabo, load your photos to an external drive and have a viewing party. Be nice and at least provide snacks.
Do you have a favorite streaming media player? Share in the comments below!
Share and Enjoy